With extensive expertise and experience in both process controls and power monitoring and analysis, Provecta has a unique value proposition for industrial clients.
Often control system design, enhancement and tuning does not consider energy efficiency, peak power management, power quality and reliability or optimising the use of any on-site generation. Those designing process controls functionality, programming controllers and designing and implementing operator interfaces often will focus purely on functionality with energy and power impacts not coming into consideration. Power reliability and energy efficiency are usually concerns left for those maintaining and operating plant; those concerned with running costs, maintenance costs and plant reliability.
For example, questions like the following might be addressed during functional controls design: are drives being controlled to operate close to maximum energy efficiency most of the time? Will valve throttling be minimised under normal operating conditions? Can total power capacity requirements be reduced by the way plant is controlled? What will be the severity of voltage sags on the upstream switchboard when drives are started and how will this impact upstream plant, do drives need to be staged in controls? What is the K-factor harmonic distortion impact on the transformer when all VSDs are running at once and by how much will this de-rate the transformer? There are many ways in which plant controls can have an adverse impact on energy efficiency and power distribution reliability.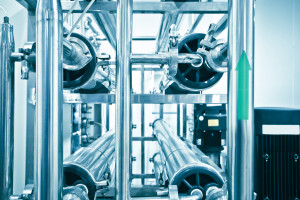 With a history in controls system design, an understanding of plant processes and significant experience in power and energy analysis and management, Provecta can generate significant savings for both those approaching us needing controls solutions and those approaching us needing power and energy solutions.
For clients wanting a lower energy-cost and a more reliable power distribution system, controls changes are often part of our tool kit for improvement. For clients wanting controls solutions we offer controls design, tuning and operator training which maximises energy efficiency, power reliability and plant life.